Staining Contractor in Lake Oswego Oregon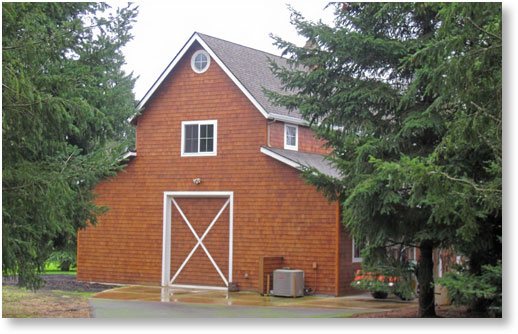 The beautifully stained natural wood materials used for siding, decks, fencing, play structures and log homes require a significant initial financial commitment. To retain that natural staired wood grain finish, look to the Lake Oswego staining professionals at Tualatin Valley Painting, Inc. These surfaces require the most frequent maintenance of pressure washing/cleaning, sealing, staining, and often refinishing.
Our Northwest weather is harshest on these stained and sealed natural wood surfaces. Stains are designed with less solids so they can penetrate into wood fibers enhancing the natural wood grain. Unfortunately, they provide a reduced level of protection from our months of extreme moisture and the intense UV rays of summer and fall. IT is important to clean and finish all wood surfaces to protect them from mildew growth, discoloration, cracking, drying out, and the battle against dry rot.
Our craftsmen at Tualatin Valley Painting, Inc. are experienced in the art and process of staining and refinishing the many different species of natural wood surfaces used in the Pacific Northwest. Contact us today for an estimate and consultation.
Our Lake Oswego Staining Services Include:
Staining
Cedar home Staining
Log home staining
Deck staining/refinishing
Cedar home refinishing
Hardwood staining
Fence staining
Play structure staining
Cedar shake staining
Log home/building refinishing
We Provide Staining in the Following Cities:
Lake Oswego, OR
,
West Linn, OR
,
Portland, OR
,
Beaverton, OR
,
Tigard, OR
,
Sherwood, OR
,
Newberg, OR
,
Hillsboro, OR
,
West Portland, OR
,
Tualatin, OR
,
Wilsonville, OR
Why Lake Oswego Should Choose Tualatin Valley Painting for Their Staining
By hiring Tualatin Valley Painting as your staining contractor, y8ou are selecting a well known and highly respected full service painting company that has successfully stained in Lake Oswego and surrounding areas since 1990. Our skilled painters take great pride in providing finely crafted stained surfaces and absolute customer satisfaction. As your Lake Oswego staining contractor, we understand we are invited guests in and around your home or business. Therefore, we conduct ourselves as unobtrusively as possible all the while respecting and protecting your family or employee's and personal belongings. Most importantly, our people are trustworthy, honest and respectful
If you are looking for an experienced painter in Lake Oswego and surrounding areas, please call 503-579-8201 today or complete our Request an Estimate.