Residential Exterior Painting in Tualatin Oregon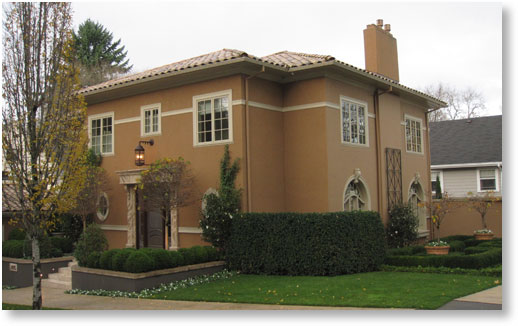 For professional painting in Tualatin look no further than the experienced craftsmen at Tualatin Valley Painting, Inc. As your Tualatin exterior painters you can rest assured that our systematic approach and meticulous attention to fine detail will deliver the beautiful, long lasting, painting results you expect from a Tualatin professional painting contractor.
Your living and working spaces are a reflection of who you are, and likely your greatest financial investments. This means painting the exterior of your Tualatin home or place of business should enhance your investment with that important and sought after "At Home" element known as " curb appeal" or instantly capture your companies stated message while protecting them from our harsh Northwest elements and the intrusion of mildew, moisture, dry rot, and insects.
To insure your Tualatin exterior painting project is finished beautifully and remains that way for years to come, please contact Tualatin Valley Painting today for an estimate to update and protect your property.
Our Tualatin Exterior Painting Services Include:
Residential Painting
Commercial Painting
Home Owner Association Painting
Management Company Painting
ECO - Friendly Paint
House Painting
Office Painting
Deck Staining / Refinishing
Fence Staining
Power Washing
Restoration Painting
If your wanting to hire a professional painting contractor, please call 503-579-8201 or Request an Estimate.
Why choose Tualatin Valley Painting as your Tualatin Painting Contractor?
By hiring Tualatin Valley Painting as your painting contractor, you are selecting a well known and highly respected full service painting company that has successfully painted in Tualatin and the surrounding metro area since 1990. Our skilled painters take great pride in providing finely crafted painted surfaces and absolute customer satisfaction. As your Tualatin painting contractor, we understand we are invited guests in your home or business. Therefore, we conduct ourselves as unobtrusively as possible, all the while respecting and protecting your family or employee's and their personal belongings. Most importantly, our people are trustworthy, honest and respectful.
We Provide Exterior Painting in the Following Cities:
Aurora, OR
,
Beaverton, OR
,
Canby, OR
,
Clackamas, OR
,
Dundee, OR
,
Hillsboro, OR
,
Lake Oswego, OR
,
Milwaukie, OR
,
Newberg, OR
,
Sherwood, OR
,
Tigard, OR
,
Tualatin, OR
,
West Linn, OR
,
Wilsonville, OR